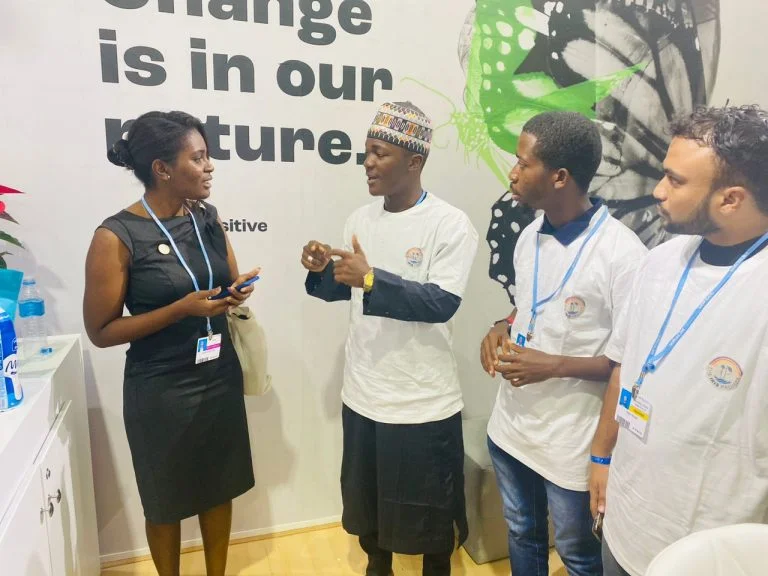 Reflections, Learnings, and Recommendations; COP27
I landed at Sharm El-Sheik at about 2 a.m. and took a free shuttle bus provided by the conference organisers from the airport to the hotel where I will be staying. Anxious about how my first day at COP would be, I barely slept a wink!
The taxi dropped me in front of the conference centre – the 'Innovation Hub.' There, I heard a woman and about 15 others chanting passionately. In amazement, I marched forward and saw more people, Indigenous people, holding banners, dressed in their cultural ways, and singing.
In over two decades of living on this planet, I have never experienced 40,000 people who, despite our differences in religion, race, culture, and language, so united. We all passionately believe climate change needs to be treated as an emergency by our leaders. It was so exciting to meet with influential young people from different parts of the world and march, chant, and demand climate justice, climate finance, and compensation for loss and damage from global leaders.
In my pre-COP reading, I learned that the theme for this year's COP was "together for implementation," which means more emphasis needs to be put on implementation and action. The theme for this year yielded the Sharm el-Sheikh Implementation Plan (SHIP) at the end of the conference. I won't go into detail here; perhaps in my next article. In this article, I will focus on sharing what I learned.
The following are some of the most important lessons I picked up from my six-day stay at COP27. I hope that you, as a leader of a youth-led group or as an advocate or activist attending COP15 this week or COP28 next year, will find this information helpful.
Stakeholders' Availability: Make the most of it and create relationships that could turn out to be something great when you're back home.
In my country, Nigeria, it takes a minimum of three letters and uncountable follow-ups to set up a meeting with the commissioner, let alone the minister, to discuss the work you do or how you can work together to achieve something, if you are able to get an appointment at all. But at COP, I saw stakeholders of all sorts available—aides, commissioners, and ministers—walking around with no security guards ready to talk and engage. A perfect place to shoot your shot, tell them what you do, and introduce yourself to them as a young person—perhaps they've never gotten to see the letters you've been sending or the great work you're doing. For me, despite having met with both the Commissioner and the Minister of Environment, their availability at COP was an opportunity to reinforce that—you too can do the same.
Networking: We all want to network, meet new people, and forge relationships, but in a place like COP with over 40,000 people from Ministers to CEOs to Executives from organisations we all consider big (perhaps people you've been dreaming to meet), knowing who exactly to meet can be confusing. I personally felt like that at some points. However, by doing my research, I knew who I wanted to meet and why. You need to be clear on why you want to network with whoever you are meeting and what the best way to engage that person is.
I attended a side event organised at the SDGs Pavilion on SDG 7. On the panel was the Director of the Clean Cooking Alliance and other influential people in the energy sector. I attended the event because of my interest in energy and a project I recently worked on about clean cooking. After a very informative session, I approached the director and told her about my project; she immediately said, "I know who to put you in touch with," and told me a little bit about their organisation, which contradicted what I learned from my google search – how incredible! She connected me with a high-level person from SE4All, who seemed busy when I approached him. However, on starting to talk about my project which aligns with his interest he gave me his listening ear, and I told him about the project, which later turned into a scheduled meeting after COP.
You must be clear on what you want from every relationship you want to initiate. I have also used the opportunity to talk to people about The Iris Project and the work I do as a youth advisor and a policy advocate leading change in my country and region. This leads to my next point.
Side Events: As a curious person, I've read numerous articles about how perplexing the number of side events at COP can be. Guess what? Just like they said, I couldn't have been more confused! It's easy to get lost among all the different pavilions with ongoing events. I took a deep breath and pulled out my schedule that I'd previously prepared for the day, which told me what to do next, where to go, and who to call. I decided only to attend side events that are in line with the things I'm interested in. That's one of the ways you can meet people of influence with whom you share common interests and who might be able to support your work.
Negotiations: I couldn't attend any negotiations; I was really sad about this. Guess why? Because I didn't have a party badge, which I wished I had or was able to get after attending a negotiation training before COP. However, I had friends who participated in the negotiations, so I kept engaging them, asked for updates, and shared ideas where I thought necessary. That way I was able to stay updated about the negotiations on the topics I'm interested in. As a young person planning to attend the next COP, I would strongly recommend you get a party badge, if possible. That way, you are able to be in the decision-making room to learn and make valuable contributions concerning young people and how climate change affects them.
Meet with other young people: One of the most exciting moments at COP is meeting young people doing amazingly well in their respective countries to share ideas and hang out for dinner or lunch. Nature4Climate did a great job in creating a platform and space for us to meet, interact, and share our stories over lunch. Also, through the first Children and Youth Pavilion at COP27, I had the opportunity to meet with some of the young people I have been working with from across the world on different projects. If it wasn't for COP, we would never have met! Most excitingly, I got to meet some of my fellow Iris Project advisors, Ezekiel and Sagar, from Liberia and Nepal.
Through the pavilion, I had the opportunity to participate in different cultural and fun activities such as the Youth Day celebration and Africa Day at COP, which was another opportunity to reinvigorate the energy to do more. Through these events, it was fascinating to see how brilliantly young people are spreading the word of action and influencing leaders using arts, music, and technology.
These are the lessons I learned, and I hope you find them helpful. On this note, I would like to thank The Ashley Lashley Foundation and The Iris Project for supporting me to attend the first of what I hope will be many UNFCCC conferences of parties.
Written by Yazid Mikail, Iris Project Advisor