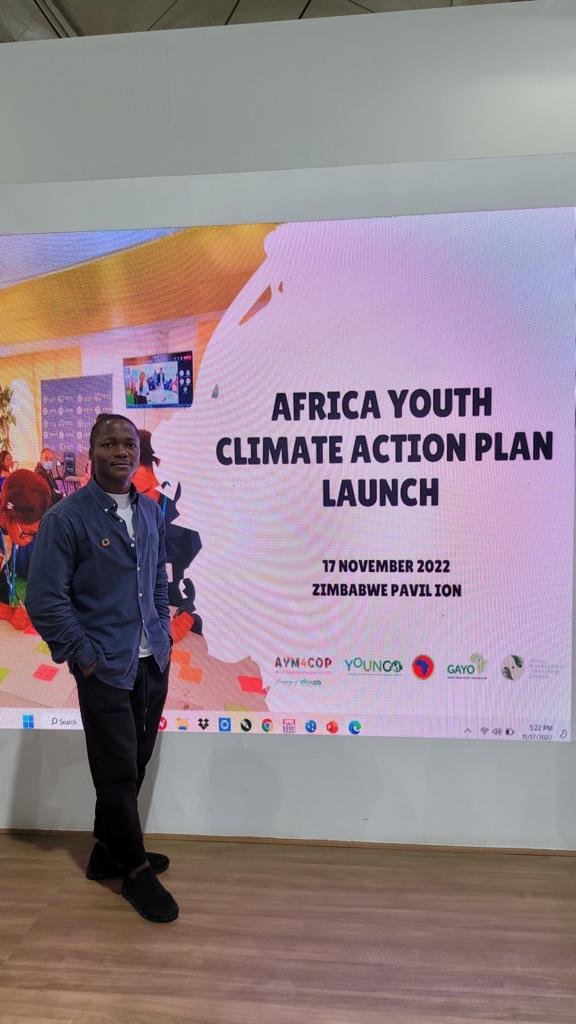 Africa Youth Climate Action Plan (AYCAP) Publication
Traditionally, each year, young people convene and develop their list of demands ahead of the Conference of Parties (COP), and not much attention is given to how those demands are translated into tangible actions in national climate change response plans and whether those actions are effectively being implemented. 
This makes it challenging for young people to hold the government accountable. As a result, young Africans decided to develop the Africa Youth Climate Action Plan (AYCAP) which will mainly serve as an accountability mechanism that monitors and evaluates the implementation of priority actions they have identified and included in the action plan. The AYCAP includes actions directed at the government as well as commitments made by young Africans to advance climate action.
In 2022, I and Shamiela Reid working as the Africa Youth Climate Action Plan AYCAP Contact Points, led the development of the first Africa Youth Climate Action Plan under YOUNGO's Africa Youth Mobilisation for COP (AYM4COP). This remains one of the biggest projects I worked on in 2022.  Leading youth consultations from across South, East, West, North, and Central Africa to get youth inputs on various AYCAP themes to inform the action plan development. This was in addition to youth consultations done at Africa Climate Week 2022 in Libreville, Gabon; the Africa Regional Conference of Youth (RCOY Africa) in Pretoria, South Africa; and the Local Conference of Youth across African Countries.
To give more context, the African Youth Climate Action Plan (AYCAP) is a transformative framework designed by young Africans to drive impactful climate action. The AYCAP serves as an accountability tool, monitoring and evaluating the implementation of priority actions identified by youth. It empowers young people to hold governments accountable, ensuring their demands translate into concrete actions at the national level.
The action plan was officially launched at the UNFCCC 27th Conference of Parties COP27 in Sharm El-Sheik, Egypt at Zimbabwe Pavillion. It seeks to inform and guide African leaders on their demands for young people and to also inform countries' climate adaptation and mitigation plans. 
Below are some key things you need to know about the Africa Youth Climate Action Plan (AYCAP). 
???? 127 young Africans were capacitated in climate action planning and M&E
???????? 5 Regional consultations were hosted
???? 3 post-consultation surveys circulated 
????????‍???? 28 young Africans reviewed and validated the action plan
✅️ 10 themes identified as strategic focus areas
????????‍♀️ 87 commitments were made by young Africans to advance climate action
♻️ 87 actions were identified by young Africans to be prioritized by #government 
❗️25 priority actions were selected for annual tracking 
???? 551 African youth voices inform the AYCAP
???? 54 African countries are represented in the AYCAP development process. 
All these incredible achievements wouldn't have been possible without the support of our amazing AYCAP members who tirelessly worked on the document, the African Youth who contributed, and our partners. This is to say a big THANK YOU to you all! 
I'm also thankful for an amazing, dedicated, and disciplined co-coordinator Shamiela Reid whose work ethic and experience played a vital role in making this possible!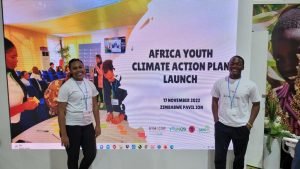 We're currently in the MELR phase now working with partners and youth from across African countries to track the commitments made in the action plan which will inform the AYCAP Assessment Report ahead of COP28 in UAE. You can reach out for support and partnership! 
To read the Africa Youth Climate Action Plan (AYCAP) click HERE.